ERRIC
ERRIC - Empowering Romanian Research on Intelligent Information Technologies

The Faculty of Automatic Control and Computers (A&C) at the University "Politehnica" of Bucharest is already well known as both a national and regional centre of excellence in Intelligent Information Technologies.
The main goal of the ERRIC project is to empower A&C existing excellence in research by unlocking its significant research potential and enhancing its national and regional leadership position in selected areas of Intelligent Information Technologies: agreement technologies, semantic and collaborative technologies for the web, advanced grid technologies, large scale distributed system services, and adaptive intelligent control.
Throughout this project, fostering high quality research in these areas of A&C expertise will lead to a comprehensive and sustainable integration of A&C into the wider European Research Area context.
Based on our SWOT analysis of existing competence and experience, the project Action Plan includes:
Strengthening our research and technological innovation capacities by supporting and mobilizing existing human resources, recruitment of experienced researchers, and expansion of the research infrastructure;
Establish an ambitious research agenda to significantly develop our research potential in the identified strategic areas, and bring A&C research activity to the highest European level;
Leverage existing relationships with 11 well established European research entities in 5 EU countries to achieve two-way secondments for exchanging know-how and experience, develop strategic partnerships, and dramatically widen A&C existing research network;
Organize high quality scientific events focused on knowledge sharing and network building, to raise international awareness of A&C research capacity;
Enhance the dynamic research environment and collaborative links with leading IT companies to support wider socio-economic impact through commercial exploitation of research results and user-driven innovation;
Promote A&C research excellence and disseminate the project results to maximize visibility at regional, European and international level.
---
ERRIC research excellence in IIT in connection with EU strategic partners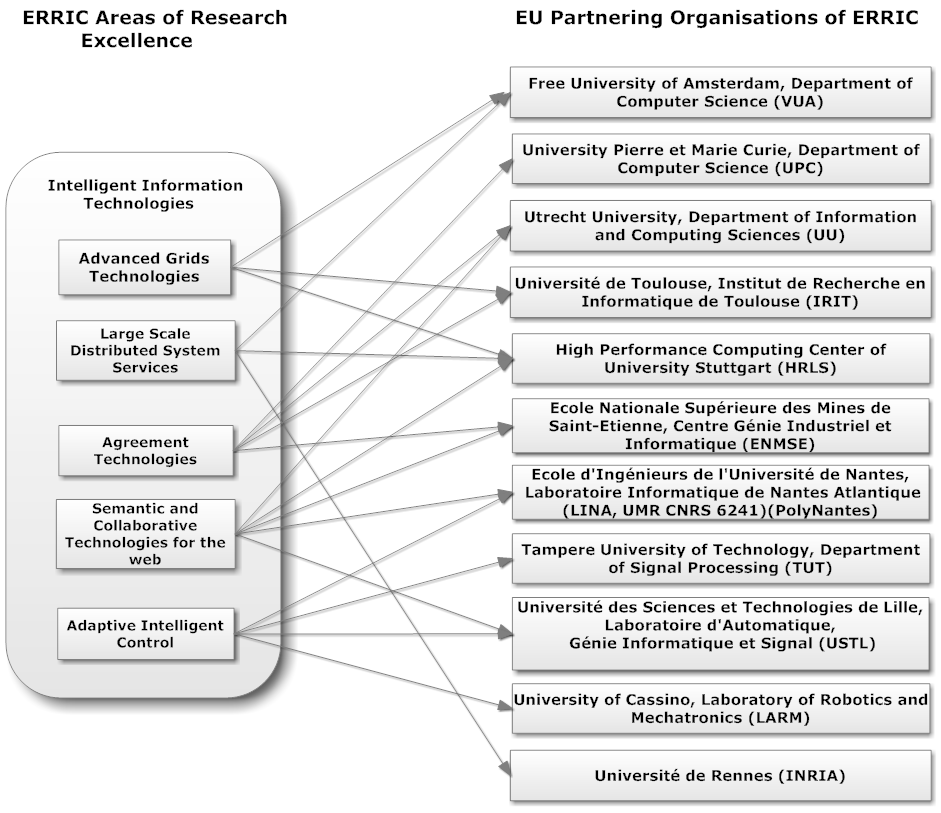 ---
Workpackages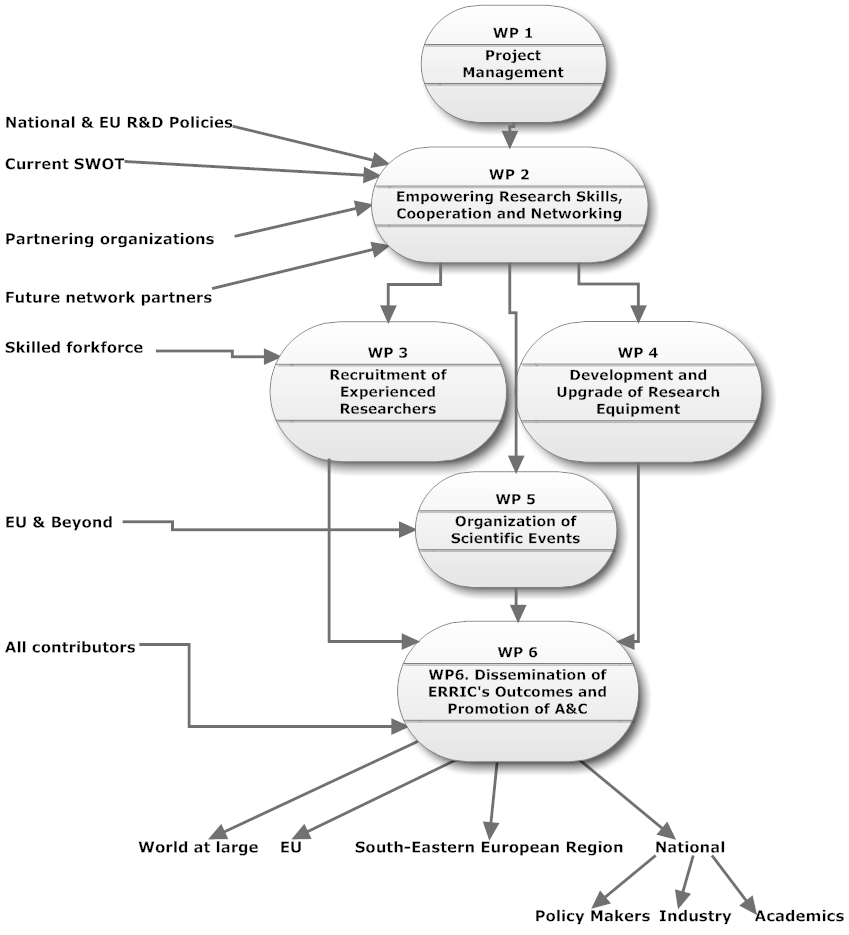 The work is organized into 6 workpackages that are presented bellow.
WP 1 is dedicated to overall co-ordination and management of the project, with the goal of ensuring overall project coherency, provide efficient management and decision making procedures, identify any problems encountered in achieving the stated project goals and put structures in place to take timely and appropriate corrective action, and finally, make a synthesis of the project results and findings.
WP2 will set up the main guidelines and the enabling actions for future high quality research, to support the mobilization and strengthen the capacity of A&C human resources through networking activities with leading scientists from partnering organizations, and to empower the research activities at A&C. Moreover, WP2 aims to develop a network of excellence and partnerships in Intelligent Information Technologies, at both European and national levels, as vital ingredients to the realization of the full research potential of A&C.
The aim of WP3 is to strengthen the human resources of A&C by hiring gifted Romanian researchers and international experienced researchers (an experienced research manager and 6 researchers selected through an open competition). It will increase job opportunities for Romanian experienced researchers from abroad by offering talented people a consistent and attractive opportunity to develop their research potential, be integrated in and participate to a visible and active research community.
WP4 aims to develop, maintain and upgrade the research equipment of A&C to comply with existing European standards, support the high level scientific research that is to be undertaken during the project and after its completion, ensure competitive research facilities that stimulate the existing staff for tackling new research themes and make it easier to attract new experienced researchers.
The aim of WP5 is to organize a series of high quality scientific events to facilitate knowledge transfer and raise of the visibility of A&C at European and international level.
Promotion and dissemination activities will be addressed by WP6 and will consist of a series of actions that will encompass both dissemination activities of ERRIC outcomes and results, and promotional activities of A&C excellence in research towards enforcing A&C leading position as a research oriented organisation at European and international level.
---